Tote bag Madeleine
Tote bag Madeleine is the market tote bag designed by lilimargotton. 100% French conception and Made in France.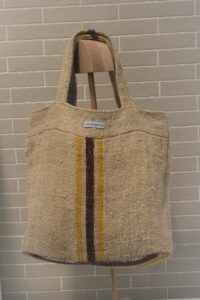 Whatever the day of your traditional market, you carry several kilos of vegetables, several pounds of fruits in your bag Madeleine because it is robust and very practical.
The sewing trick: lining sewn into the bottom of the bag to prevent it from going out with all your shopping.
If you prefer, the tote bag Madeleine can have another use. Replace your class bag. Embark on it for the weekend. In other words, do what you like with the tote bag Madeleine!
You can associate it with the model Kit Olga and Tote bag Augustine. Indeed, some models are matched: same outer fabric and same lining.
This model of bag weighs about 400 gr to 700 gr depending on the fabric.
The textiles used
The Tote bag Madeleine is made with old hemp fabric, cotton found in France. And, I can also design it in robust linen. Like the other models, the linings mainly come from lilimargotton findings: modern or vintage printed cotton. Indeed, I bring a particular care to the association of textiles.
Eco-friendly model
Finally, thanks to the tote bag Madeleine, you contribute to reduce the textile impact because it is mostly made with vintage fabrics. This large reusable tote bag is the perfect and alternative solution to ban plastic bags.
The care tips
lilimargotton advises you to wash this bag by hand with a natural detergent or Marseille soap or to entrust it to your eco-responsible laundry. There are more and more!
What you need to know about Madeleine
Madeleine was my grandmother. Madeleine had a very modern spirit and kept telling us, "enjoy life, children! ". She was proud of her tribe. She liked to gather around a gargantuan Sunday lunch that ended very late!
No products were found matching your selection.