Tote bag Lucienne
Tote bag Lucienne is a  french charming XXL tote bag.
100 % French conception and production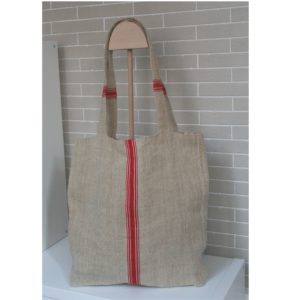 Because of its size, it's perfect for your books, your lessons, a weekend's business or to bring bucket, shovels and rakes.
Beach bag or everyday bag, it's up to you to make the best use of it.
Fabric I use
It can be made in old hemp fabric, mottled in France, rustic textile that bears the marks of time: uneven thread, apparent thread, more or less dark, marks of old fabric. These marks are all the charm of this hemp fabric.
I also create it in linen that I find with European masters of linen. This is the guarantee of a very good quality linen!
Finally, thanks to the bag Lucienne, you contribute to reduce the textile impact because no fabric was created exclusively and only for this model! It's a real alternative to plastic shopping bags.
The care tips
You can wash this bag Lucienne by hand with a natural detergent or chips of Marseille soaps. It is advisable to rinse carefully and extend your bag without spinning too much on a towel for drying that you prefer in the open air. Wet hemp has a smell of hay. It fades with drying. It is ironing very well still a little wet.
Why is this model called tote bag Lucienne?
This is an old name that I liked a lot. However, I tried: no Lucienne in my family tree nor that of Mr. lilimargotton. The name Lucienne was widespread in France at the beginning of the 20th century. As the old names have a certain success, I am sure that the name Lucienne is a name for future generations, aren't you?
No products were found matching your selection.