Little tote bag Suzanne
Little tote bag Suzanne is the mini bag created by lilimargotton.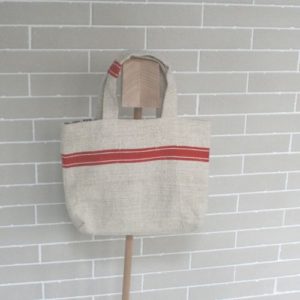 100 % created and made in France. Sustainable and eco-friendly creation.
Romantic, modern, childish style or very colorful , the little tote bag Suzanne is functional with its worn handles.
Ideal for both young and old, it has a nice capacity. An evening, a stroll, an exit on the go, carry the essentials: toys, papers, mobile, bottle or just a book and a towel for the beach, a water bottle for the day.
The little tote bag Suzanne can have other uses. It is very useful in a child's room for storing toys, in your dressing room for socks.
You can associate it with the model kit Olga. Indeed, some models are matched!
This little bag model weighs between 95 gr and 150 gr depending on the fabric.
The textiles used
The little tote bag Suzanne is made of antique hemp fabric, thick cotton or burlap flap found in France. And, I can also design it in new cotton or linen. Like the other models, the linings mainly come from lilimargotton findings: modern or vintage printed cotton. Indeed, I bring a particular care to the association of textiles and colors.
Eco-friendly model
Finally, thanks to the tote bag Suzanne, you help reduce the impact textiles because it is mostly made from vintage fabrics.
The care tips
lilimargotton advises you to wash this bag by hand with a natural detergent or Marseille soap or to entrust it to your eco-responsible laundry. There are more and more!
What you need to know about Suzanne
Suzanne was Mr. lilimargotton's grandmother. I remember this very beautiful woman who loved to prepare herself for a walk in the streets of this pretty port, Saint-Vaast-la-Hougue in the Cotentin in Normandy, home port of Mr. lilimargotton's family.
No products were found matching your selection.