Lined Tote Bag Eugénie
Lined Tote bag Eugénie is a tote bag with variable dimensions. It is sturdy and elegant.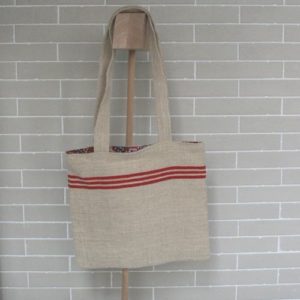 In old hemp fabric, it is a unique creation. As I developed this model from a mid-19th or early 20th century grain sack, the Tote bag Eugénie can bear the marks of time. These marks that make the frame uneven. This thread that exceeds. This frame more or less dark. In short, these marks of time which make the charm of the inspired creations of the old times.
It brings a modern touch to your outfit when I use linen.
In short, this tote bag is a real alternative to plastic bags: ecological and sustainable.
Finally, these creations can also be made on demand. Feel free to contact me by specifying the model that you like via the contact form.
Care instructions
You can wash this lined tote bag Eugénie by hand with a natural detergent or shavings of Marseille soaps. I advise you to rinse your bag carefully and to extend it on a towel for the drying which you prefer in the open air. Wet hemp has a smell of hay. It fades with drying.
Why is this model called Tote bag Eugénie?
What you need to know about Eugénie
Augustine Eugénie was born in 1863. She was my great-great aunt.
In the nineteenth century, the name Eugenie was a real success after a long absence. However, it became rarer until the 1980s.
I would love to meet little girls with the sweet name of Eugénie!
No products were found matching your selection.