Kit Olga
Kit Olga is the flat version of the kits created by lilimargotton. Cosmetic or school kit! It's up to you.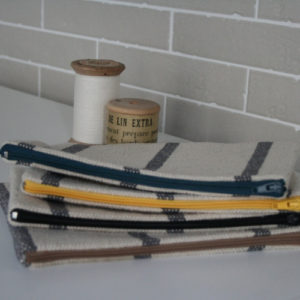 With it, you get pens for the faculty or high school, everything you need for the office. Admit it, you must store the essential oil of peppermint, lipstick, mascara, deodorant, mini-sewing kit, tissues.
This model of kit measures approximately 20 cm x 13.5 cm and weighs between 25 gr for the lightest to close to 70 gr for those in hemp fabric.
The textiles used
It is made of old hemp fabric, in cotton, in linen, unearthed in France. And, I can also design new cotton like Liberty or organic cotton or oekotex . I also use thick or fine linen. I decline it in all the fabrics recovered from lilimargotton, fabrics of upholstery to the cloth of jouy passing by the hemp fabric or linen.
Eco-friendly and sustainable model
Finally, thanks to the kit Olga, you contribute to reducing the textile impact since it is mainly made of vintage fabrics, second-hand fabrics or even old clothes.
Care instructions
lilimargotton advises you to wash this kit by hand, so as not to damage the zipper. You can also wash it in the machine in a net or pouch closed at 30°C maximum, light spin. Indeed, after multiple washes, the drum of the machine could damage the zip.
What you need to know about Olga
Olga was my great-grandmother. From her, I remember an elegant elderly lady and a natural class. I also remember his laughing eyes and his natural authority. Poor Grandpa Louis!
No products were found matching your selection.